Our Leadership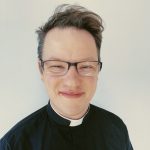 Rev. Carter Smith-Stepper – Pastor
Fr. Carter is a priest in the Anglican Church in North America. He and his wife Holland have two children, Monroe and William. He came to the Anglican tradition seeking a deeper tradition of the historic Church, that embodied truth, goodness, and beauty. He has a deep love of Christian theology, history, and liturgy, all of which he believes are for the building up of all Christians. More than anything, Fr. Carter desires and strives for St. Aidan's to be a place of hope and healing, where the gospel of Jesus is heard and all people are embraced.
Holland Smith-Stepper – Communications Director
Holland moderates and curates our communication via social media, print media, and newsletters. She also shares property care-taking with Carter. Her 'night' job is as a cardiac RN at a local hospital. She is passionate about public health and health care, especially advocating for healthcare disparities within our community.
Copyright ©2021 St. Aidans Anglican Church / Spokane, WA / All Rights Reserved